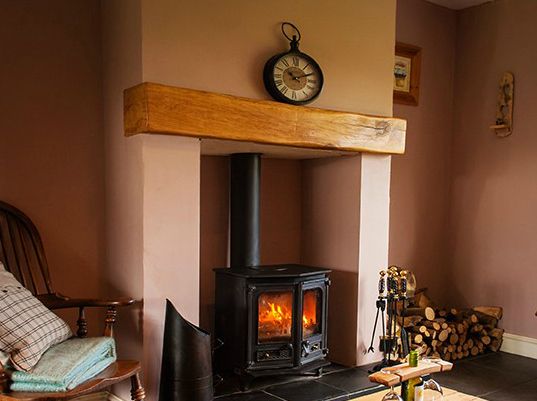 All of our oak beams, are worked by hand to give you the best looking Oak Mantle, Shelf, Fireplace etc possible, Many finishes are available. We Stock Air Dried and Green Oak beams for use as shelves, mantles, lintels, beams etc. Green oak is freshly cut and has a higher moisture content than Air Dried.
You will find with green oak that over time natural surface grain cracks develop as it dries, whereas with the air dried these are already visible.
Our Solid Air Dried French Oak beams and boards have been naturally seasoned/dried for up to 10 years in France, giving them full character and very stable to use indoors as mantles above log burners etc, as well as lintels and structural support beams, as with all natural timber products there is the possibility that these may move slightly, we do advise that if putting above a log burner etc, that they are acclimatized slowly.

Our craftsmen take great pride in individually picking out the best beams and working them by hand to the highest of standards to give a totally unique and warming piece that will be the focal point of any room.
These beams are also suitable for external use.

Celtic Timber..........The natural choice


The above pictures give a good representation of the three finishes we offer.


Sawn - Is how the beams come into us. These can be belt sanded or left for the natural rustic look.
Planed - After the beam has been planed, it brings it back to its natural light oak colour, and also straightens out any natural curves etc. This is ideal if going up against a wall.
Planed and Sanded - After planing we sand the beams to a superior finish. At this stage we can shape the beam to your choice by giving it a natural wane edge look or it can be left square. We round off all corners and sharp edges so the beam is ready to be waxed/oiled or stained when it gets to you.

If you choose the size section beam you would like from the sizes below, you will then get taken to a page where you can choose the length and finish.