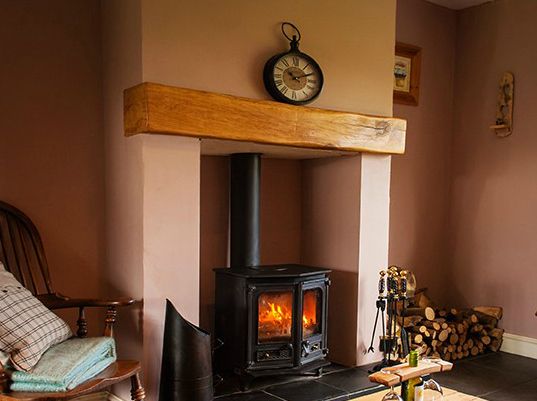 Our range of solid oak beam fireplaces, shelves & mantles have been hand worked by our skilled team at Celtic Timber. We are able to provide a massive range of sizes for oak beams fireplaces, mantles and shelves, this ensures you have the correct hand finished piece of oak that you need, with the best look possible. Celtic Timber stocks and hand works both solid green oak and air dried. Both give an incredible, natural look to any property. All of our solid oak beams are suitable for both interior and exterior locations. We have included a menu to assist you in picking the correct solid oak fireplace, mantle and shelves, please follow the steps below to begin:
Step 1 – Choose whether you would prefer to work in Metric (mm) or Imperial (in). The default setting is Metric (mm)
Step 2 – Choose a Cross Section, The first measurement is the Width and the second measurement is the Height of the required Oak beam.
Step 3 – Select the available length (m)
Step 4 – Enter the amount of beams required. The default is 1.
Step 5 – Choose a Finish.
Sawn Only – Sawn is how we receive the solid oak. This is the most natural and un-worked look available. Perfect if you plan on sanding and planing yourself.
Planed – This is an excellent finish as our skilled team will plane the solid oak beam. This brings our the oaks natural, lighter tone and has the added bonus of straightening out any bumpy sides, essential if you need your beam to be flush against a surface.
Sawn & Planed – Our sawn and planed finish option is the most worked beam that is available. We saw the beam perfectly for you and carefully sand the solid oak beam to an incredible finish. Our team also can leave or plane waney edges or it can be made square. They also round of any sharp edges and corners. This allows you to focus on picking the correct oils and waxes for your finished fireplace, mantle or shelf. If you select sawn & planed you will be asked to specify your solid oak appearance, which can be, Worked, Lightly Worked, or Heavily Worked relating to the options mentioned above.
Step 6 – Here you can select your bracket if required. Our floating shelf concealed brackets are one of Celtic Timbers best sellers due to their sturdy and long lasting reputation. The floating shelf concealed bracket is available in straight (80-170mm) or T (75-135mm) shape variations.
Step 7 – Bulk buy options allow you to purchase more than one solid oak fireplace, shelf or mantle as a reduced price. If you require this then please select the required quantity.
Step 8 – Your done! Simply add your beam to your basket and checkout. If you have any questions or comments please contact us
The solid green oak is more freshly cut and will contain more moisture than kiln or air dried solid air. This can, over time, cause small cracks but this usually adds to the natural tone of the wood. With air dried solid fireplaces, mantles or shelves any cracks that would appear are visible after the drying process, which in our solid oak has been up to 10 years in sunny France. Air dried oak is much tougher to work with than solid green oak due to the drying process but can still be worked by hand. For larger applications we recommend green oak as it is much easier to work with if you plan on improving your fireplaces, mantles or shelves further.
If you are looking for an oak beam fireplaces or mantles we recommend an air dried oak as this would already have a lower moisture content. Using green oak for this purpose is also fine but we recommend that you allow the oak to acclimate to a higher temperature for 7 days or more if possible.